Lots of Talk, Little Action? Chances and Impediments for a New EU-U.S. Trade Agenda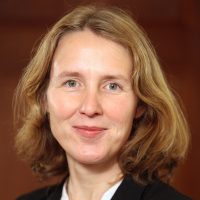 Head of Geo-economics Program, DGAP
Claudia Schmucker is head of DGAP's Geo-Economics Program. Prior to that, she had headed DGAP's Globalization and World Economy Program since 2002. She has published extensively on European and transatlantic trade policy, the World Trade Organization (WTO), and the Doha Round as well as on the role of informal global forums such as the G7 and G20.
Schmucker studied at Rheinische Friedrich-Wilhelms Universität in Bonn, at Elmira College in New York State, and at Yale University. She holds an MA in North American studies and a PhD in economics from the Freie Universität Berlin.
Executive Director, The Aspen Institute Germany
Stormy-Annika Mildner is the executive director at the Aspen Institute Germany and a Geoeconomics Non-Resident Senior Fellow at AICGS. She was Sherpa of the Business 20 (B20), the official Engagement Partner of the German G20 Presidency and Head of the External Economic Policy Department at the Federation of German Industries (BDI).
Issue Brief 41
The annual meeting of the Transatlantic Economic Council (TEC) in November 2011 presented an opportunity for German and American policymakers  to make progress on their efforts at greater trade integration.  This Issue Brief gives an overview of the EU and the U.S.' trade agendas and looks at how greater transatlantic cooperation can benefit the conclusion of the Doha Round and transatlantic trade.
---